Michael's New CD: Reclusion

Release Date july 14, 2018
The recordings of the CD were just finished when Michael passed away. We are proud to present this CD at the Music Festival Big Rivers in his hometown Dordrecht on 14 july. The CD will be available at the Music Festival and at this website.
Guest Musicians: Bobby Flurie, Harry Gale, Ben "King" Perkoff, Carmelo Leotta, Ernie Schmiedel, Robin Draganic, Jeffrey Lee Mills.
Recorded – Mixed – Mastered: Farmsound Studio, Heelsum, NL by Wil Hesen.
Songs:
Jesse James
An Evening Stroll
Autumn Leaves
Unfinished Prayer
Ships In The Night
Call It What You Will
Minor Key Of Twilight
Who Knows Where The Time Goes
That Lucky Old Sun
Little Seed Song
Dreaming My Dreams With You
First reactions: – Best CD Michael ever made.
Pressrelease.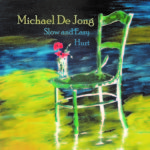 Two outtakes, "Slow and Easy"(with Willem van Dullemen) and "Hurt" will be released on a limited edition single. The single will be given away for free when you buy the CD.
The singel is a limited edition, collectors item. It is not for sale.