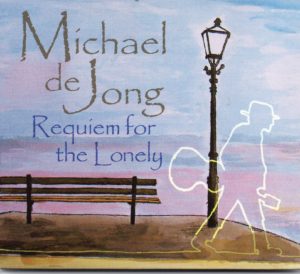 Requiem For The Lonely
The CD Requiem For The Lonelyhas been made with the help of old friends like Toby Gray, Alan Sitar Brown, Willem van Dullemen, Bobby Flurie  and Charlie Musselwhite .
In 2017, Michael de Jong received the honour of being placed into the Dutch Blues Hall of Fame in recognition of his life-time of work for his music.
For Michael the greatest honour was that it was his Father's name in his Fathers country….a very personal promise was kept.
De nieuwe CD Requiem For The Lonely is alleen verkrijgbaar op deze website. Een aantal oude vrienden zoals Toby Gray, Alan Sitar Brown, Willem van Dullemen,  Bobby Flurie en Charlie Musselwhite hebben aan de CD meegewerkt.
In 2017 heeft Michael de Jong de eer ontvangen om opgenomen te zijn in de Dutch Blues Hall of Fame voor zijn levenslange inzet voor zijn muziek. Het meest bijzondere voor Michael was dat het met de naam van zijn vader en in het land van zijn vader plaatsvond… Aan een persoonlijke belofte werd ingelost.
Lust for Life – 5 Sterren
Rootstime: "We moeten ons inhouden om niet op 'repeat' te duwen."
Barnoblues: "Naar mijn mening is dit Michaels beste cd ooit."
Meer recensies en interviews Requiem For The Lonely
Op 1 december 2017 is Michael na 15 jaar terug in café Amer. Het beloofd een speciaal concert te worden.
Kaarten reserveren doe je bij Harry de Jong:
Bellen; 06 83 22 56 80
Mailen; harrydejong@cafedeamer.nl
Vermeld je naam, 06 telefoonnummer, het concert waar je heen wilt en
het aantal bezoekers.
Boekingen/bookings: Ruud Boer bookings@michaeldejong.com