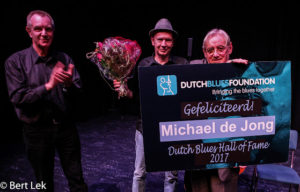 Door de Dutch Blues Foundation worden jaarlijks mensen, die zich verdienstelijk hebben gemaakt voor de blues in Nederland, opgenomen in de Dutch Blues Hall of Fame. Deze eer valt dit jaar ten deel aan Michael de Jong.
Op 16 juni wordt Michael de Jong officiële toegelaten in de Dutch Blues Hall of Fame. Dit vindt plaats tijdens zijn laatste optreden in Calypso Theater (Wijk bij Duurstede).
FRIENDS OF MY MUSIC….
In my years of living in The Netherlands I have recieved 2 great honours.
The first was when Robert van Ommen came into my life so many years ago and it was the start of a friendship that still touches my heart to this day.
Robert took me "under his wing" and it was the beginning of a completly different kind of playing. The Concerts were all sit down Concerts in the finest venues in The Netherlands….and this helped me to develope into the songwriter that I am today.. The pride I felt every time I saw an advertisment …. Mojo Concerts Presents Michael De Jong ….this was THE door Robert opened for me.
The 2nd greatest musical honour I recieved was from the Dutch Blues Foundation when the placed me into the Dutch Blues Hall Of Fame.
….and I am still speechless !!!
Thank you Nederland for taking me back in…thank you Dordrecht for giving me a place to call home…where I could create this music.
Most of all, THANK YOU to each and everyone of you that ever played one of my songs and let my words into your hearts.
Kijk voor het volledige artikel van de Dutch Blues Foundation op : Michael De Jong komt in Dutch Blues Hall Of Fame.